Your home remodeling will be in the best hands. We have years of experience upgrading and updating homes for satisfied clients in the Indianapolis, Carmel, Greenwood, and the surrounding areas. We can make your project stand out because of our premier service and attention to detail.
We provide design as well as exceptional construction services. When we come to your home we can discuss your vision and we will bring a builder's eye to what is possible. Often we can exceed what you thought was possible.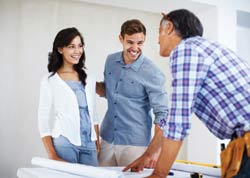 Our Residential Remodeling and Construction Services Include:
Kitchen renovation or refurbishing
Restyling a bathroom or adding one
Finished basements and entertainment rooms
Screened-in and glass porches
Adding a room or rooms
Specialized carpentry
When we add or convert space for you, you can count on our attention to detail. We consider this to be precise work. With our precision you get the room addition, finished basement, finished attic or additional bathroom you hope for. We use top products in all of our home remodeling; for example, the finest brands in doors and windows including Andersen, Pella and Marvin.
Remodeling a kitchen is an increasingly popular home remodeling project. We can change the configuration completely or we can work on rejuvenating surfaces in the existing floor plan. Ceramic tile, granite counter tops, a deeper sink, and perhaps a kitchen island will turn a room that used to provide utility into a gathering space.
Restyling a bathroom adds priceless comfort and value that can be calculated. If you sell your home, a renovated bath on average returns 75% of your investment. We will be at your side advising on just the right fixtures to transform your bathroom into a much more inviting space.
For expert home remodeling, call 317-281-4651 today for a free estimate.